A group home by the sea is an ideal place for a wonderfully beautiful vacation. The wind through your hair, cooling off in the ocean and then warming up again with wonderful sunbeams in your face. The Netherlands is a country that is almost synonymous with water, the sea and the coast. While in other European countries you sometimes have to drive for hours to reach the coast, from a large part of the Netherlands you can reach the sea in no time. So too from our Golden Stays in North Holland. Our group accommodations are not literally by the sea, but very close!
Heerhugowaard
Just a half hour drive from the coast, in Heerhugowaard, there are two beautiful Golden Stays for rent. The first is a luxurious villa, perfect for a group vacation near the sea with up to 12 people. This villa has a private pool and a jacuzzi for when you want to enjoy water close to home. Furthermore, it has a beautiful garden, and a modern interior. Would you like to know more about this house? Then read on in our blog about this villa for rent.
The other group home near the sea has only recently become a Golden Stay. This is a nice house for a small group, suitable for 6 people and a baby. This beautiful house has an appropriate name for enjoying the beach, namely: Zonnestraal. Huize Zonnestraal has a beautiful large garden, with lawn, porch and several seats in the shade and in the sun. Under the porch is an outdoor BBQ, perfect for enjoying delicious food after a beautiful day at the beach with the family, friends or a large group.
The hosts of this house, Suco and Ajsela are very nice people, and great managers. A number of reviewers on airbnb fully attest to this:
"We had such a lovely stay with Suco and Ajsela. Everything was perfect and we had such a warm welcome when we arrived. Suco and Ajsela went the extra mile to ensure our stay was pleasant. The house was neat and tidy with lots of space and a great garden. Thank you, Suco and Ajsela!"

Jacobus July 2019
"Suco & Ajsela are extremely friendly and helpful hosts. The house is modern and stylishly furnished. The equipment is very good. Overall, the house exceeded our expectations."

Arnd August 2019 translated from German
Interested in this group accommodation near the sea? Book it now via the button below: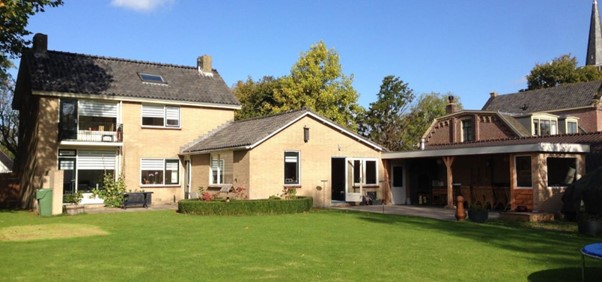 The Golden Bend above Amsterdam
The closest beach town to these 2 large houses by the sea is bergen aan zee. This is a popular coastal village that has much to offer. Miles of sandy beach where you can enjoy lazing, swimming or practicing a water sport such as wind-, kite- or wave surfing in summer. Besides sunbathing and swimming in the North Sea, the village of Bergen also offers things like nice boutiques, cosy terraces and culture of the many painters who have been attracted to this village, but also things like wonderful forests and dunes where you can walk or cycle through.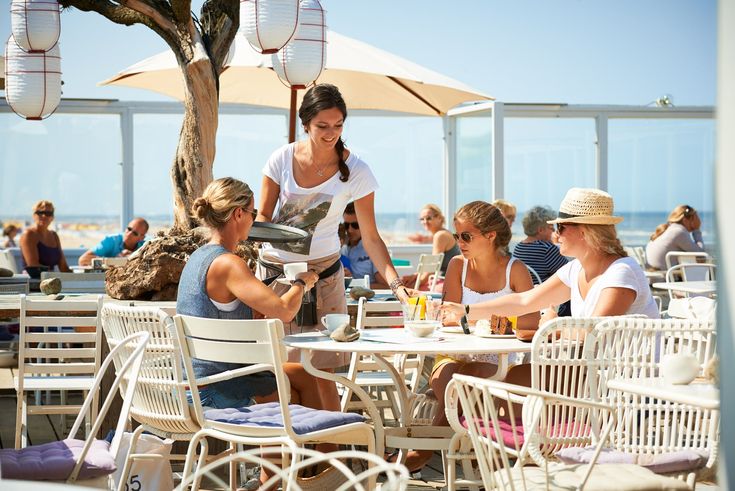 A little further south is Egmond aan Zee, which is also a lovely picturesque town. Egmond aan Zee has a history as a fishing village, which at the beginning of the 19th century increasingly became a wonderful place to spend your vacations. This is a wonderful place to visit the beach with the family, where Bergen has more entertainment possibilities and is therefore more fun for group vacations.
These two villages, combined with the village of Schoorl, are called the "Golden Bend above Amsterdam" by Germans. The golden bend in Amsterdam refers to the most prestigious part of the Herengracht in Amsterdam, between Leidsestraat and Vijzelstraat. This is where the richest Amsterdammers lived. So this is a compliment for the region: It is super rich in wonderful experiences, culture and nature!
Interested in this group accommodation near the sea? Book it now via the button below: