House with Hot tub, Whirlpool, Jacuzzi. All terms for a moment of rest. Well-deserved rest. Comfortable rest. Luxurious rest. All terms that are synonymous with Golden Stay. This means that we are also very proud of our beautiful villas and holiday homes that offer this kind of peace and quiet through a lovely hot tub. One of such houses is our beautiful English villa in Drenthe, just above Ommen. Beautifully situated in the countryside, this is a haven of luxury and tranquility. This villa offers space for up to 10 people, but you can also easily take some more space for yourselves with less people, such as during a stay with 6 persons or even 4 persons.
This villa is popular, and affordable at 300 euros per night at the moment. Located in Zuidwolde, a few kilometres above Ommen, near Enschede to the east and the Veluwe to the west, it is ideally situated in Drenthe. Nearby you can paintball, fish and enjoy nature, but the highlight of this house with hot tub is the hot tub itself. Beautifully finished with the wood, and it is located in the spacious backyard. The reviews about it almost put it better than we can say it:
"The hot tub was wonderful! We would have loved to stay a few more days"

Translated from Dutch, Mandy januari 2022
"The hot tub is pure joy."

Translated from Dutch, John januari 2022
"The hottub gives the place that extra touch for a relaxing weekend."

Mitchell, November 2021
"The hottub was great for relaxing and watching the stars at night"

Sandra 2021
In short, this English villa full of character in the Drenthe countryside is already beautiful, but even better because of the wonderful wooden hot tub, which only adds to that beautiful character.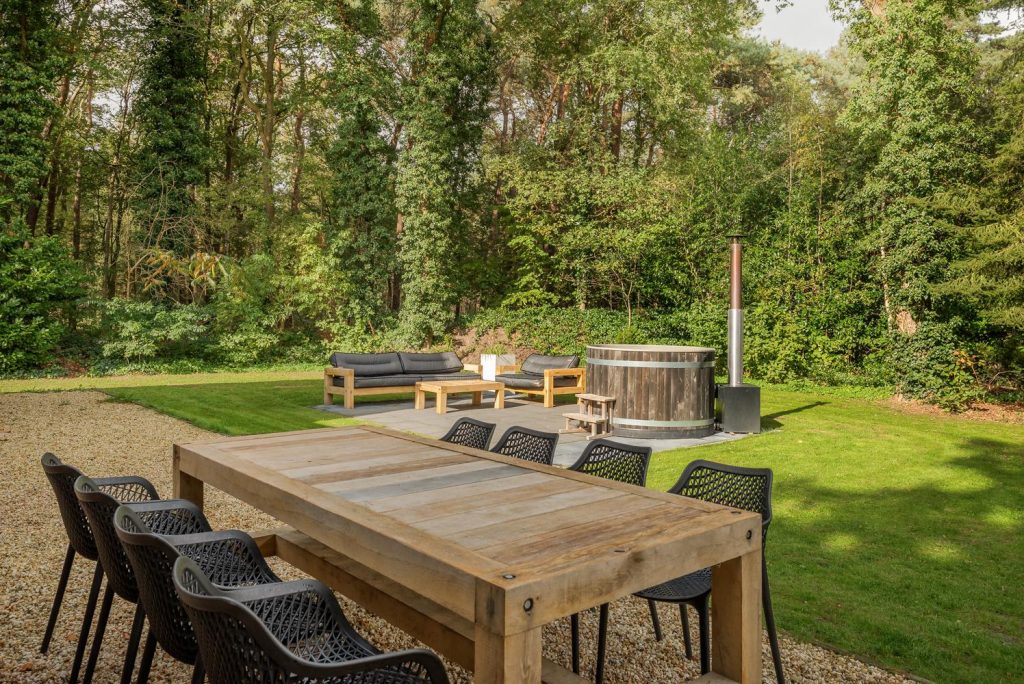 Another option: Villa with fireplace
Further to the south, just outside the Netherlands in Belgium to the west of Limburg lies the beautiful authentic villa "de Daelhoeve". This farmhouse has a romantic and authentic character, but is very modern. Although it does not have a hot tub for rest and relaxation, it does have 2 beautiful fireplaces. These also offer the warmth of a hot tub, combined with the safe and soothing feeling of a (safely) burning wood fire.
A fireplace offers many advantages, not only is it CO2-neutral, but it also adds to the villa's romantic snugness and cosiness. It is an affordable source of heat that still works during the worst storms, and is not to be missed in this beautiful villa.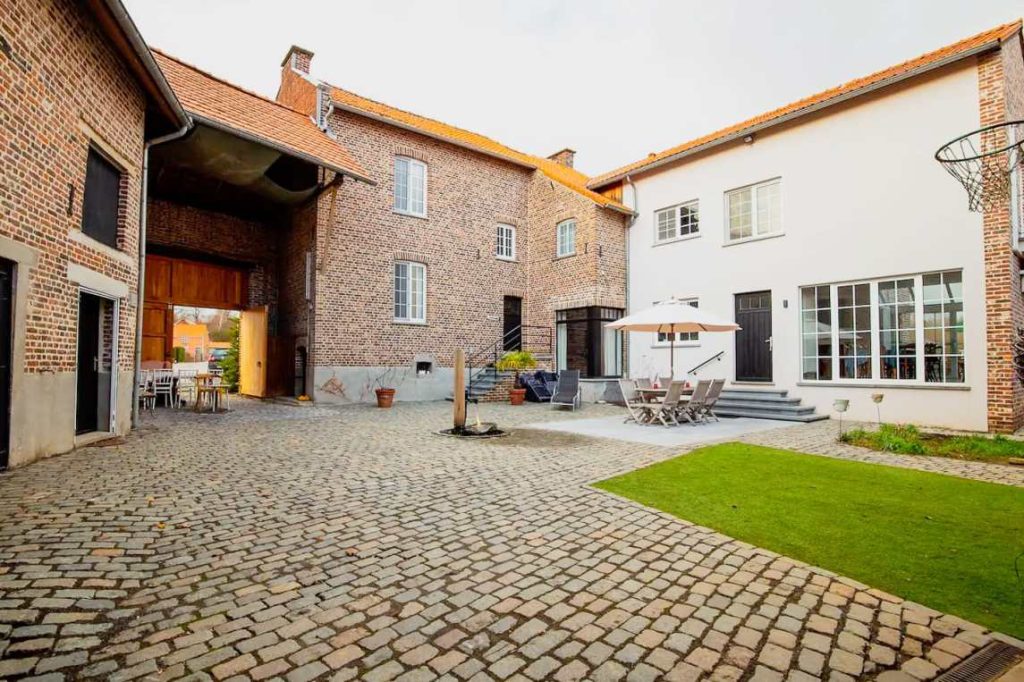 This beautiful villa offers much more as a wonderful holiday home; Space for 12 persons with 5 bedrooms, 2 bathrooms, 2 toilets, air conditioning, a fully equipped kitchen and a very large garden. This garden contains 2 terraces, a football field and a ball game field, perfect for having fun with the whole family or a large group of friends. The two terraces are a delightful part of this beautiful holiday home in the countryside. One of the terraces overlooks the inner garden of the sqaure farm house, and the other has an even better view: More than 5 km of nature. Perfect for enjoying a beautiful sunset with a cold drink in your hand.
Guests were also enthusiastic about this villa and the region. So was Joke:
"Spacious nice house with lovely garden with many sitting areas and games. The house has everything, a cosy sitting area with fireplace, spacious bedrooms with good beds. Beautiful area for walking and cycling. There are 2 walking routes that pass in front of the door and several in the neighborhood, just like several bicycle nodes. …"

Translated from Dutch, Joke mei 2021
A nice detail is that there are also chickens for those interested, this means fresh eggs and a nice activity for the children to feed them!