Imagine: How nice it would be to book a vacation bungalow near Amsterdam, the IJsselmeer and the sea. One day in the city, enjoying everything Amsterdam has to offer: Museums and stores, crowds and plenty of culture. The next day a breath of fresh air on or in the IJsselmeer, for example with a sailboat or a swimming suit (or bikini!). And then another day lying on the beach in the afternoon, and returning in the evening to a luxurious bungalow with its own jacuzzi and sauna. This means optimal enjoyment; enjoying the country, and enjoying everything the vacation park "recreation park West Friesland" has to offer. And that is a lot!
The Bungalow with jacuzzi that is brought to your attention in this blog is called Wellness-Bungalow Bolder, and as mentioned is located on recreation park West Friesland. This is a park full of luxury vacation bungalows where the beautiful bungalow Bolder stands head and shoulders above the rest with what it has to offer. This combined with its location near Amsterdam, the IJsselmeer and the sea makes this a bungalow with whirlpool that Golden Stay is proud of.
WELLNESS bungalow
Some people ask: Bungalow with whirlpool, bungalow with jacuzzi, or bungalow with hot tub, is there a difference between them? The answer is quite simple: no, there is no difference. These are all names synonymous with ultimate luxury on vacation in a vacation bungalow. This is something that is important at Golden Stay, luxury and tranquility. This bungalow features a beautiful private jacuzzi inside the gazebo. In addition to the private jacuzzi, this vacation bungalow offers even more for the wellness enthusiast: a private sauna! This makes this bungalow the perfect place to completely unwind and relax and enjoy the luxury.
The private sauna and jacuzzi are located at the end of a deep garden. This garden offers the happy chirping of birds, your own piece of greenery and access to another dose of luxury: Your own covered sitting area on a nice porch with kitchenette including minibar and coffee maker. Directly adjacent to this wonderful addition to the vacation bungalow is also an outdoor bathroom, equipped with shower stall and toilet so only a few feet away from the hot tub and sauna.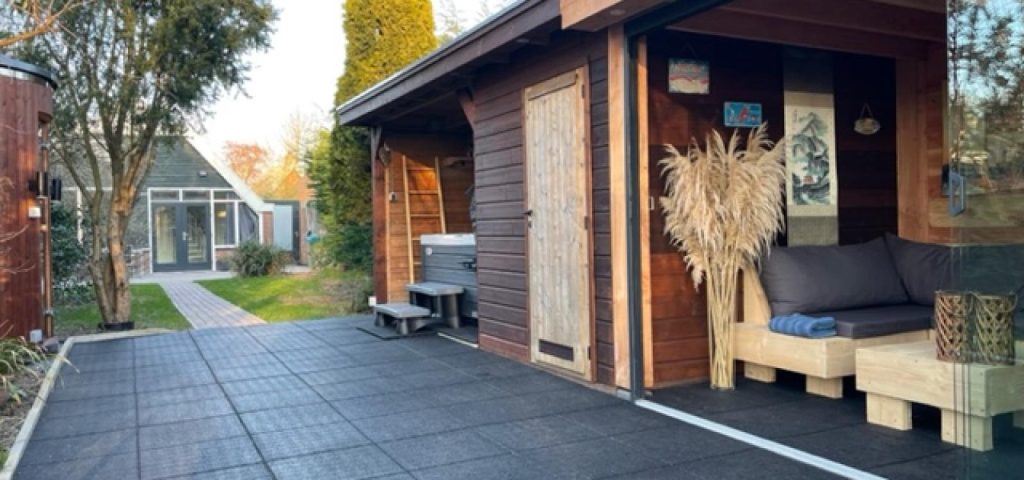 Recreatiepark West-Friesland
The house is equipped with everything you need in a vacation bungalow: free wireless internet, a spacious living room, a dining area and an open kitchen. This indoor kitchen includes a combination microwave and dishwasher. Furthermore, there are 2 bedrooms: 1 room with 2 single box spring beds and 2nd bedroom with 3 single box spring beds and baby crib. The bathroom has a shower and toilet. In addition, the house has a garden with furniture and parking for 1 car.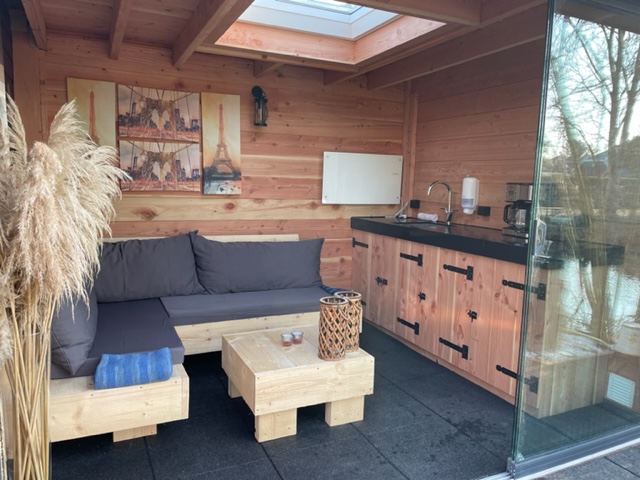 Everything is taken care of to perfection and crisp clean. Beds on arrival are made and towels are ready. This is the quality of service that belongs to Golden Stay and to recreation park West Friesland. Want to know more about this wonderful vacation park? For example about the wonderful heated swimming pool? Then read our blog post about a beautiful chalet on this same park: Chalet Westenwind!
Reviews of our bungalow with jacuzzi
We think this bungalow is a wonderful example of what a Golden Stay is: great quality, infused with luxury. Everything is present for the perfect vacation in a bungalow with jacuzzi and sauna. But don't just take our word for it, here's a small sampling of reviews from guests who enjoyed their stay immensely:
Great accommodation to stay and relax for a few days!

Mats, May 2021
A very tasteful and lovingly decorated bungalow, very clean, well equipped. We felt very comfortable ❤

Simone, September 2020 – Translated from German
Here you get good accommodation and landlords who take good care of you. Price, performance and care just very good.

Rolf, August 2020 – Translated from German
Ready to enjoy this bungalow for yourself? Then book your stay now!