Maastricht, the "most European city in the Netherlands", is so called because of its historical buildings, adventurous caves and beautiful city center. In this city center, you can buy anything that your heart desires in trendy designer shops, enjoy menus full of delicious food and terraces full of comradery, or visit a swimming pool or spa and unwind. There is also plenty to do in the area around Maastricht, which is ideal for walking, cycling and exploring nature. But where do you spend the night? In a Golden Stay holiday home, of course.
Luxury vacation home Maastricht: The Abbey
The Abbey is a stylish collection of apartments near Maastricht, just outside the city center, in an old monastery. This beautiful historic building is home to several Christian organisations working together to make this a true modern monastery: A place of community, retreat, worship and prayer, education and training, and luxury. The four holiday homes that are located here from Golden Stay can accommodate 2 or 4 people, but can easily be combined on request to accommodate 8 people or 10 people together.
These luxury holiday homes near Maastricht are perfectly situated to fully enjoy the beautiful surroundings. The monastery itself is located next to a sculpture garden, a delicious restaurant and a beautiful hiking trail through the Southern Limburg hills. Take for example the apartment: "Stylish studio in a monastery The Abbey", shown in the picture below. This studio breathes the luxury and atmosphere of this beautiful location. It is beautifully finished with a bathroom, toilet and shower, a kitchenette and a double box spring bed, everything you need to discover the surroundings of Maastricht.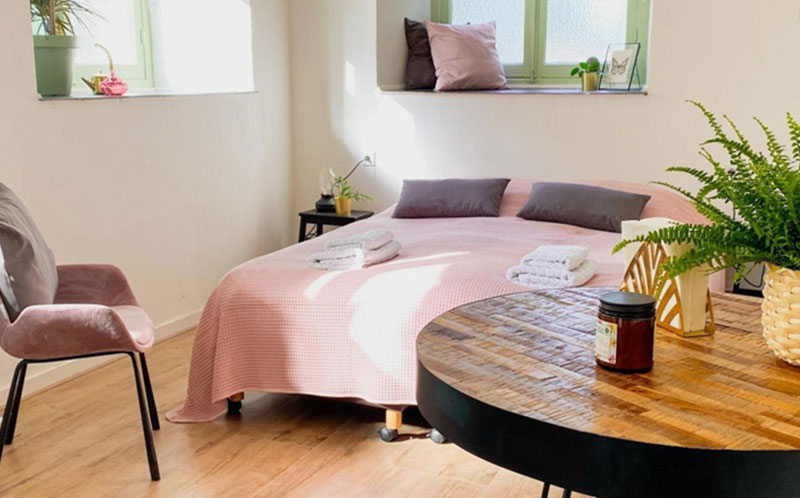 Luxurious villa near Maastricht
To the south of Maastricht is also a beautiful Golden Stay Villa, in the lovely Eijsden. This luxurious villa is for rent for a wonderful stay for 8 people near Maastricht. It has been recently renovated, and is also in a wonderful location to enjoy the Limburg countryside and the city center of Maastricht. It is truly a family villa, with 3 bedrooms combined with 2 beautiful lofts with 2 more beds. The beds are very comfortable, and the living room exudes luxury and atmosphere. Furthermore, this holiday home has something that we have already talked about the added value of: a jacuzzi. The spacious bathroom also has a walk-in shower, but the jacuzzi is what makes this holiday home near Maastricht a holiday home with a swimming pool, even if it is only a small one.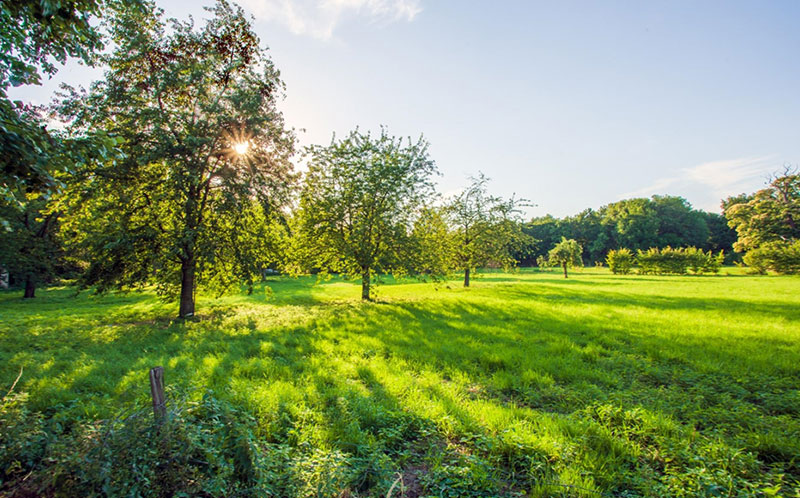 The holiday home is ideal for groups or families, for example to enjoy delicious Limburg steaks from the barbecue that is part of the house. Furthermore, it is located in a beautiful part of nature with the most amazing walking and cycling routes through orchards, forests and flowery fields. This nature here is simply beautiful, and guests are very enthusiastic about their stays here. So was Maud:
"This is a really lovely little house! Small and cosy, but equipped with EVERYTHING! This is really the best supplied location so far! It is very tastefully decorated and the space is well laid out. Lots of sleeping places too. The bathroom is super nice with a good shower and wonderful whirlpool (bubbles). The location is nice. In the middle of a residential area, but a stone's throw away from the Maas with beautiful walking routes. The Savelsbos is also a great tip for fairy tale-like forest walks. You are also close to Germany (Aaken) and Belgium (Hasselt) for nice trips. This house is highly recommended (especially during any lockdowns ;))! We hope to come back again."

Maud, January 2022
We couldn't agree more! Would you like to visit beautiful Maastricht after reading this blog? Then book a stay at one of our luxury Golden Stay holiday homes!